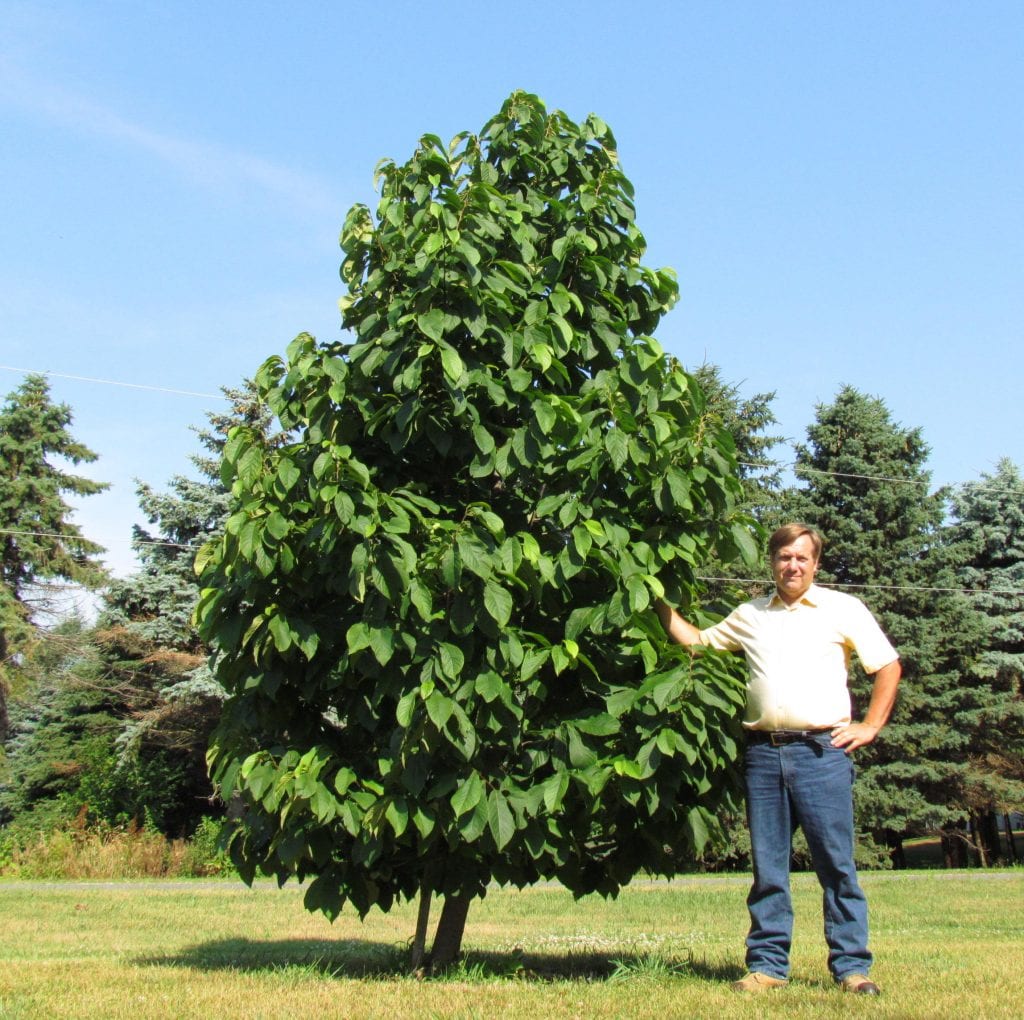 Episode 19: All You Need To Know About Pawpaws
They're native in large parts of North America. They produce delicious fruit that tastes a bit like mango, banana and vanilla custard. So why are pawpaws so hard to grow? In this episode of The Urban Forestry Radio Show we speak to horticulturalist Dan Bissonnette, author of The Pawpaw Grower's Manual For Ontario. On the show Dan answers our questions about why it can be hard to establish this beautiful tree, how to grow it and care for it, and what to do with the delicious fruit. And the conversation with Dan continues on this post on OrchardPeople.com's facebook page.
The host of the Urban Forestry Radio Show and Podcast is Susan Poizner of the fruit tree care education website www.orchardpeople.com. Susan is also the author of the award-winning fruit tree care book Growing Urban Orchards. Listen to previous episodes of The Urban Forestry Radio Show and Podcast at www.orchardpeople.com/podcast and subscribe to the iTunes podcast.
Tune into The Urban Forestry Radio Show LIVE by going to RealityRadio101.com on the last Tuesday of every month at 1.00 pm Eastern Time. This show covers fruit trees, food forests, permaculture and arboriculture.
What you will learn about pawpaws in this episode
What does pawpaw fruit taste like?
What is the difference between American, Caribbean and Australian pawpaws?
How can these plants provide economic prosperity?
What are some damaging conditions to avoid for a newly planted pawpaw tree?
What are the optimal growth conditions for pawpaws?
Can pawpaws grow and mature healthily in a pot?
How and when do you transplant a pawpaw tree?
How do you prune pawpaw trees?
What are their pollination requirements?
What are the common diseases or pests that afflict pawpaws?
What regions should you purchase pawpaw seeds from?
How do you propagate pawpaws from seed or fruit?
What are the optimal soil conditions for pawpaw?
Click the player below to listen now!
And after listening, take the free quiz about growing pawpaw trees and earn a FREE continuing education credit (CEU) for the International Society of Arboriculture, Master Gardeners or another professional organization.
Podcast: Play in new window | Download
Subscribe: Apple Podcasts | Android | RSS